Otis Guy Mountain Bike Camp 2022
NorCal League 2018 Coach of the Year
NICA 2017 Community Awareness Award

2023 Summer Camp Weeks
Week ONE- June 19-23
Week TWO- June 26-30
Week THREE- July 10-14
Week FOUR- July 17-21
Week FIVE- July 31- August 4
Week SIX- August 7-11
Recommended for ages
8-13 plus Go to ABOUT
for all details

Sterling has been working at this camp for nearly half his life. He came up with YAAAAH UPHILL!!! when we start going up climbs to help the riders relax. He was a top 5 Varsity rider at Williams High School and was recruited as a scholarship MTB rider at Warren Wilson College back east. He is studying to be an EMT, you may see him working hard at Splitrock in Fairfax and is full of energy which transfers well to all the riders and the camp.
Otis Guy is the founder of Otis Guy Mountain Bike Camp and director at camp as well. I am one of the founders of mountain biking, have coached the Archie Williams High School MTB team for seven years. The team has won 5 California State Championships while I have been coaching. I was a Firefighter/Paramedic for 33 years at Ross Valley Fire and am still an active medic and work for Marin County Fire Dept. part-time. During the pandemic, I assisted in administering vaccines at the Marin County Superpod where we gave 100,000 vaccines I was awarded the 2018 Norcal High School Coach of the year (more of a statement for Williams MTB). I am the Director of the Mountain Bike Hall of Fame (Worldwide) and an Inducted Member since 1993. You will have someone who trained all the Ross Valley Fire Depts on EMS for 12 years and designed a WFA course for High School MTB coached and have trained over 750 coaches. Here is a video that I did with 3 times World Champion Peter Sagan.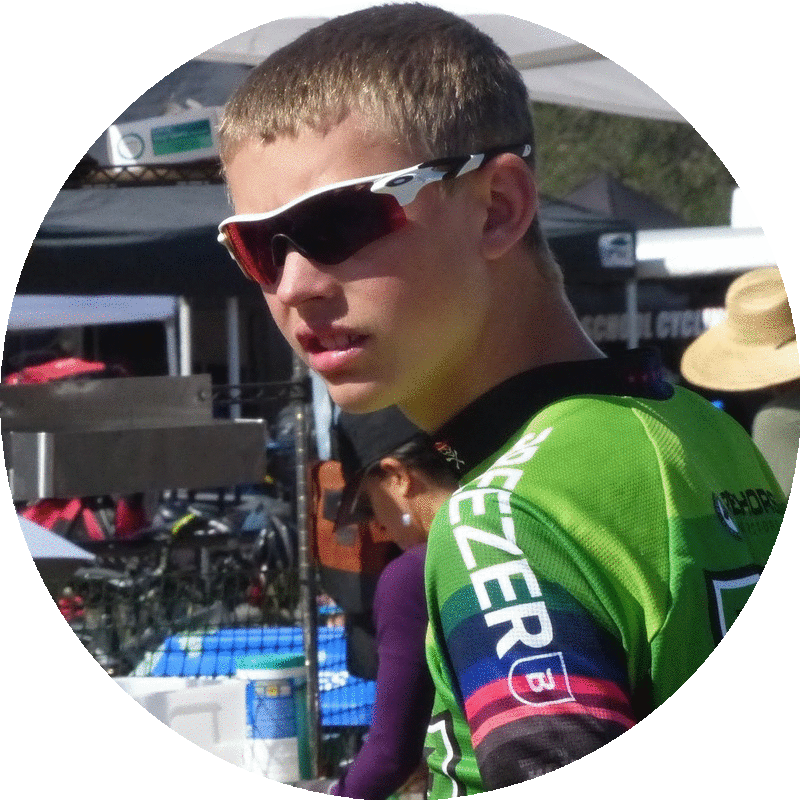 Marcus is a Sophomore at Santa Barbara City College this year. Marcus is Wilderness First Aid and CPR/First Aid trained. This will be his tenth year as a camp counselor. Marcus is very kind and gets along well with all the campers and really excels with the younger campers. He starred in a Specialized Bicycle commercial four years ago, which was shown worldwide during the Tour de France bicycle race in 2014. Check it out!!
Michael is a student at UCSC and raced Varsity on the Williams Mountain Biking Team. He has been helping out for five years, a past camper, and has been universally liked by the campers. I am lucky to have him.
Bridger started off in the camp as a rider, the CIT and has been a counselor for years. He is an accomplished rider and more importantly really good with riders of all ages. He studies at UCLA and a top student.
2021 was Izzy's first year helping out at camp. As you can see from her photo, she is riding really well in high school MTB racing. It has been great to have her join our staff and she shined as such a great influence with the riders.
IZZY
Our camp is about having fun and learning cycling skills. Our mission is for our campers to have fun and come away with the skills and knowledge to be able to take you on some great bike rides out of Fairfax.
No other camp exists that has this depth of background of cycling knowledge and has the preparation to handle any emergency.
Otis was the Co-Head Coach of the Archie WilliamsHigh School Mountain Bike team for 5 years and has been running a mountain bike camp instructing kids ages 8-13+ for the last twelve years. We do have riders under 8 attend, please make sure they have the right bike and can ride uphill a little bit. Our campers will have the best safety protocols in place from not only emergency medical knowledge but also from untold hours of leading rides for riders of all ages.
We have a large diversity of riders from ages 8-14 years old that come from all different kinds of riding backgrounds, from beginners to advanced. We split into 2 groups for the week, beginner/intermediate and intermediate/advanced groups to give each rider the best camp and riding experience. Beginners would be riders who need to get off their bike just a few times riding up Shaver Grade from Deer Park School to 5 corners. Advanced would those who can ride up with barely getting off their bikes. Summer camp hours are 8:30 am until 3:00 pm Monday through Friday.
Otis Guy is a life-long Marin resident who has been biking and hiking the trails since his youth as an Eagle Scout. He is one of the founders of mountain biking. He first started riding mountain bikes or as we called them Ballooners or Klunkers in 1973. He started building bicycle frames in 1982 (check out www.otisguycycles.com) and formed his own Mountain Bike racing team in 1983 which culminated in 1999 with Kevin Merrigan winning the 30+ National Cyclocross Championships. He was inducted into the Mountain Bike Hall of Fame in 1993 (check out http://mmbhof.org/otis-guy/). Otis was honored in 2018 as the Norcal High School MTB Coach of the Year.
Otis also was awarded the 2017/18 NICA (National High School MTB) Community Awareness award.
During the pandemic, Otis worked as a Safety Officer for the Marin County Emergency Operations Center and administered vaccinations and mixed thousands of doses of Pfizer vaccine at the Marin County Super POD where 100,000 were vaccinated.
In addition to his experience as a founder of the sport, Otis brings a great deal of medical knowledge to the camp. He worked as a Firefighter/Paramedic in Ross Valley for 33 years and is still a California State Certified Paramedic. He is a California State Certified Emergency Medical Services instructor. He is also a CPR/First Aid, Emergency Medical Responder, and Wideness First Aid Instructor. Otis was the Co-Head Coach of Archie Williams High School Mountain Bike Team for 5 years and coached for 7 years. He is a founding board member of the Marin Museum of Bicycling and Director of the Mountain Bike Hall of Fame.
FREQUENTLY ASKED QUESTIONS
What kind of bike do they need? What about clothing? What else should I know about attending camp?
They usually need a 24" wheel or bigger mountain bikes with 3 front chainrings (many bikes now have single chainrings but with very large cogs in the back, that bike would work!!) and low gears. What can make it very difficult for the riders is a bike with a single chainring and smaller cogs in the back. It is not about how fast they go up a hill, just that their gears are low enough to still pedal. If you have any questions regarding this, please give me a call. If they can't fit 24" wheels, make sure their 20" wheel bike has low gears. Also, the 24" or bigger wheels roll over bumps much better, which makes it much easier for them to improve their skills. We need all bikes to have at least one water bottle cage to keep the campers hydrated. Some riders use a camelback-type backpack to carry water. Make sure they know how to use it and are filled up when they arrive. In terms of clothing, if it's going to be a cool day have them bring a sweatshirt. We want the riders to wear some type of gloves as it helps protect their hands if they fall (it does happen occasionally). Please sunscreen up your camper before they arrive, as this is an all outdoors camp. We bring sunscreen with us if more is needed. On the last day of the camp session for the intermediate to advanced, riders we go out and ride to the inkwells near Lagunitas so if they can carry a swimsuit with them. For the beginner to intermediate group we go there on Thursday. Many campers wear their swimsuit and air dry (no towels needed). It is really more of wading rather than swimming. If there is any reason you don't want your camper to swim please let me know.
I'm worried about if my child will last all day in a mountain bike camp?
A typical day starts out with bike checks. Each day we demonstrate and work on specific mechanical skills as well as practical riding skills. Some examples of these skills include learning how the gears work and how best to shift, the parts of a bike, how to use the brakes, how to remove each wheel, and how to fix a flat. We then go for a ride and stay out until returning around 2 pm, while riding the counselors will give help with improving their riding ability. We have lunch while out on the trails. We finish up at the ballfield where we watch their bikes and the counselors take them to Fairfax Scoop for ice cream if they want one. (please supply your camper with some money to purchase an ice cream if they want one).
How do you handle having riders of differing abilities and ages?
We split into 2 groups depending on the skill and ability of the riders. A beginner/intermediate group and an intermediate/advanced group. That is why I have you let me know what level you think your camper is at when you register. If your rider can ride up a medium-length dirt road without stopping very much they would be an intermediate to advanced rider. We have routes and locations that we want to get to each day, but we read the room and see how everyone is doing and adjust accordingly. We are never in a rush, we get there when we get there. Our philosophy is to always keep looking at ways to make sure that all the rider's needs are met. This means we may have a goal or route in mind though depending on how the campers are feeling we always adjust to make sure we keep them feeling confident while still getting them to excel.
We provide snacks during the day. A small handlebar bag is supplied for use during the entire week. It is large enough to fit lunch, size is 9"s long and 4.5"s in diameter. It won't fit the large metal or plastic lunch containers. We have lunch while we are out on the trails.
Does my camper need to be an experienced rider?
No, they simply need to be able to ride a bicycle safely. During the week we work on how to shift the gears properly and how to use brakes efficiently and safely. We teach them how to ride safely on the street and on trails by learning what to look for while riding and maneuver in the safest manner possible. The camp is about giving each rider the confidence to feel better about how they are riding. it is not about how fast anyone one of them goes, this camp is about having fun and learning how to ride.
If my child has a drug or food allergy are you equipped to deal with that?
Yes. I am a trained paramedic (very few camps -- if any-- have the medical and trauma experience that I do) and can assist with an Epi-pen administration. Please indicate on the registration form what allergies your child has so we can best accommodate them. If they are prescribed an Epi-pen please bring it each day of camp. It will travel with them in their handlebar bag. All the counselors are trained to administer an Epi-pen though by far the goal is to never use it.
Is it okay if my camper rides to and from the camp?
We do have some campers who have no problem riding to and from their home to camp. If your camper is skilled enough and you feel confident that they can do that, we are fine with your decision.

What about the 2.5 hour rides?
When you do the 2.5-hour rides, the dates will be on the home page of my site and will be in both the 2022 registration form and the short form for registered 2022 riders who already completed the long-form
Where do we meet and pick up?
We meet at Central Field at 8:30 am in Fairfax. It is the baseball field right near downtown Fairfax off Broadway behind the old Bank of America on School Street Plaza. We are usually back at the ball field by 1:45 -2 pm if you need to pick them up early. Otherwise camp ends at 3:00 pm (also at the field).
"Hi, I just wanted to drop a quick note to tell you how much my boys are loving camp – Harrison today said he can't believe how much fun biking is! Thank you not only for tiring them out, but for inspiring them They also worship your son…gotta love how "little" boys love older boys. We will definitely be back next week and next year!!"
Your camp tranformed Noel's belief in his riding and his enjoyment of riding
"I just wanted to Thank you and your super group of counselors for a terrific week of mountain biking. I was so pleased at how well the camp was run and the great progress my son and daughter made in biking. They did way more that I thought they would be able too."
"This is a bit overdue, but I wanted to thank you for taking Sam at the last minute when your camp said it was full. He loves mountain biking and has the utmost respect for you, your boys and Eric. What great role models you all are!!! Thanks for inspiring him and challenging him. We sure are lucky that he is learning from the best!"
"He had a WONDERFUL time last week. Thank you, thank you, and thank you! I appreciate the things you taught him about riding and even more importantly your kindness and positive spirit is so nice for the kids to experience."
"Thanks for letting me in this awesome biking summer camp. My favorite part was when on Friday we went to that big swimming hole."
"I wanted to personally give you kudos for Luke's newfound love of the bicycle. He rides it every day to school (rain or shine) and has gone mountain riding a handful of times. Took him riding on Wednesday and saw something I have never seen: a true love for the bike! He ripped up the hills and down them. I can't thank you enough Otis. Magical!"
Inquiries
For any inquiries, questions, or comments, please call: (415) 250-2585 or fill out the following form or just email me at otis@otisguymountainbikecamp.com which is easier. If you want to be on my email list, please list your rider's first and last name for me to enter on my email list with your email.
Otis Guy Contact Info